Step by step guide to two factor authentication
To activate two-factor authentication (2FA for short), log into Hetzner Accounts.
There, you will find the menu item Two-factor authentication under the item Settings. There, please click on Enable 2-FA.
Enter your account password and confirm that if you lose your recovery key, you will only be able to receive a replacement recovery key via regular mail.
You will then be redirected to an overview of your customer number and recovery key. Once you have noted it down and stored it safely, continue by clicking on SET UP AUTHENTICATION.
Now, select the authentication method you want to set up, follow the instructions, and fill in the fields.
Once you are done adding the authentication method, you will see an overview of the authentication methods you have created so far, their status, and a few more details.
The following screenshot explains this overview in more detail: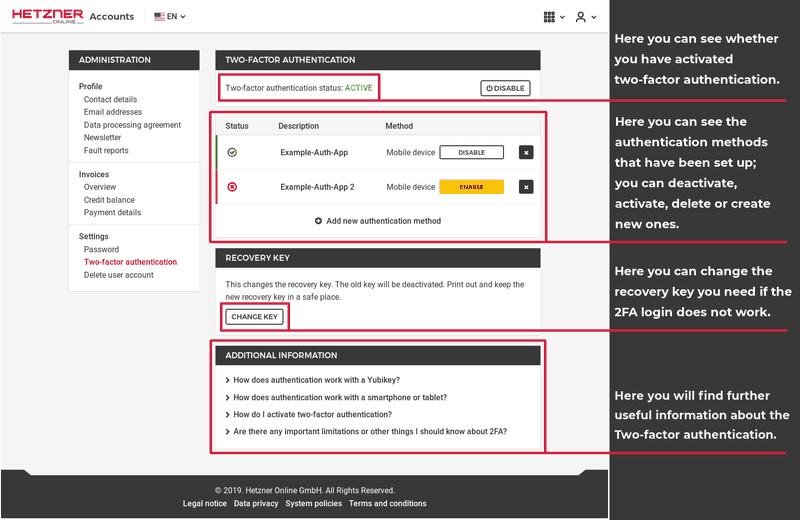 FAQs
What do I need the recovery key for?
If the login with activated 2FA does not work, you have the red option DISABLE 2FA under the VERIFY button. If you enter your recovery key there, you can log into your account and you will deactivate the 2FA.
Can I set up multiple authentication methods?
Yes, you can add multiple of authentication methods. You can also have several authentication methods active at the same time, and you can then use any of the active methods for the login.